Designing Amenities for Tomorrow's Modern Residents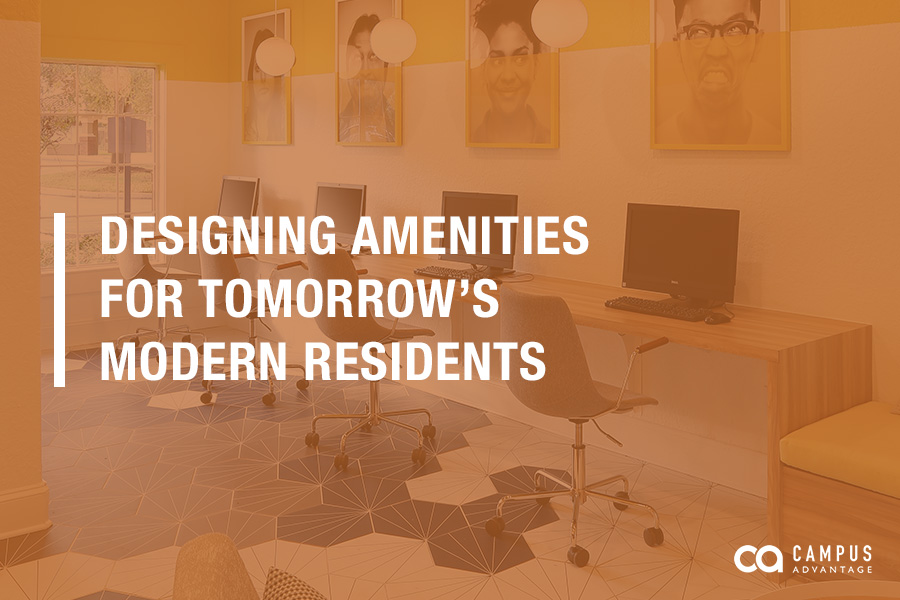 By Kaitlyn Ballesteros, Director of Consulting; and Caitlin Chalem, Director of Business Development and Market Research
Gone are the days of off-campus apartments being highly valued for flashy amenities — tanning beds, lazy rivers, golf simulators and the like. Generation Z, or those born after 1997 and the majority of today's college students, has shifted the student housing amenity trend back towards practicalities: health, wellness, and academics. Additionally, due to the COVID-19 pandemic, there are heightened concerns around communal interactions, so many communities have been forced to refit communal spaces and amenities to be more conducive to social distancing. Given the current climate, as well as future trends, the following are design and amenity enhancements that Campus Advantage recommends considering when renovating an existing asset or developing a new student housing community:
Single Occupancy Bedrooms and Bed-Bath Parity – Due to social distancing, single room and private bathroom accommodations will likely be in high demand next fall and onward. Campus Advantage anticipates that many on-campus residence halls may alter their typical double room assignments to accommodate for single occupancy. While double occupancy bedrooms may be prominent and highly sought after in particular markets, it is expected that students will begin to gravitate more to single occupancy accommodations to account for possible future social distance regulations or shelter-in-place orders. According to a study conducted by J Turner Research, when asked about their top design feature, 72% of students desired multiple or private bathrooms. Ample closet space ranked number two in this study, so it is recommended that new developments also have bedrooms that include space for a full-size bed and walk-in closet.
Study Spaces and other Social Amenities – Due to the COVID-19 pandemic, properties are limiting the number of occupants in study spaces and other amenity areas such as fitness centers and game rooms. Properties are asking that residents sign up to reserve single occupancy spaces, such as individual, private study rooms. It is recommended that student housing developers take this into consideration when designing social spaces by implementing areas or stations that allow residents to distance themselves from others. This can be accomplished by including various types of single occupancy seating options such as pods, booths, or long tables where students can keep a comfortable distance from one another.
Additionally, including a variety of study spaces is becoming increasingly popular due to students of this generation being focused on academic success and desiring to study in social areas. Social areas allow students, even if they are studying alone or in small groups, to be in communal spaces where they can connect with and be around others. Many of these spaces within new developments are following the same style and trend of co-working spa
Robust Fitness Centers – It's well-known that Gen Z is focused on holistic health and wellness — our own research has proven that. Accordingly, new developments should focus on health and wellness to keep up with student demand by providing unique and robust fitness centers. Consider including multiple workout areas that accommodate a variety of fitness activities and plans such as CrossFit, barre, yoga, and spin, or even a separate multiple-purpose room that can be used for fitness or dance classes.
Fresh Market or Healthy Eating Retail Options – In line with their focus on health and wellness, it's important to provide healthy eating options for this generation of college students. If retail is included, consider seeking out restaurants that provide fresh and quick meal options. If retail is not included, consider incorporating a self-service fresh market or vending option.
Bluetooth Printing – Consider providing residents with printers that have Bluetooth printing capabilities so they can print class assignments directly from their personal devices without having to use a printer touchpad. Print kiosks with this functionality are becoming more and more popular at student housing communities because they provide residents with the convenience of mobile printing capabilities. Students of this generation are well-equipped with the latest technology, so they also expect technological features and amenities to be included in their off-campus community. Additional technological features that should be considered are individual programmable thermostats, Bluetooth shower heads, and smart home technology.
Coffee Bars – Communal coffee bars were closed during the COVID-related office shut-downs due to the high-touch surfaces. Consider a vending method that reduces the contact and time spent at the coffee machine by installing a machine with one button to dispense the drink of choice. Coffee cups should also be individually wrapped and disposable for residents who opt to not bring their own.
Packages – Package pick-up has long been an issue with student housing managers as the number of Amazon, grocery, and other delivery services has increased immensely throughout the past few years. Package rooms and package lockers not only reduce the interactions between residents and office staff, but they allow office staff more time to focus on leasing.
Sanitation Stations – COVID-19 has brought the importance of sanitation to the forefront of everyone's minds. Hand sanitizer dispensers should be stationed outside of the leasing office and other amenity areas. The office staff should also have direct access to a private sink where they can wash their hands frequently.
Touchless Restroom Features – Automated touchless faucets, soap dispensers, and air dryers have become increasingly popular in public restrooms to limit the amount of contact in these areas. Consider foot-operated door openers, as well, which prevent people from having to touch door handles.
By observing these necessary innovations that allow for social distancing, and by considering what amenities tomorrow's residents will be looking for, student housing developers, operators and campus management companies can design communities that will appeal to future student demographics.