Liv+ Gainesville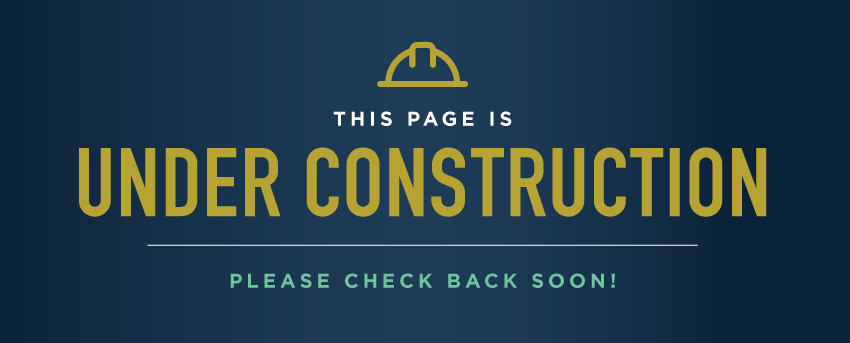 Bridges on Forbes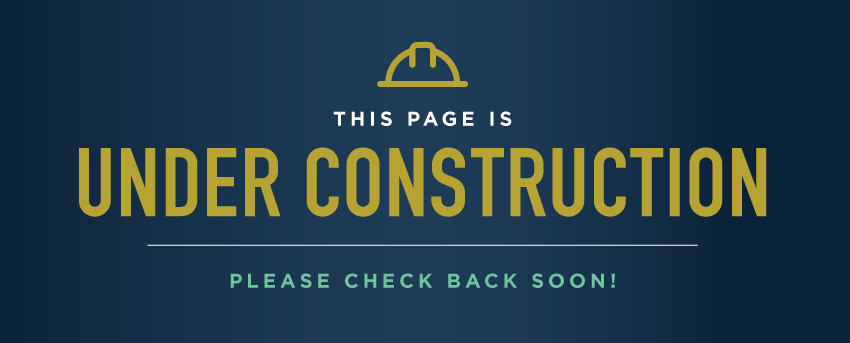 Moontower
Location: Austin, TX
University: University of Texas at Austin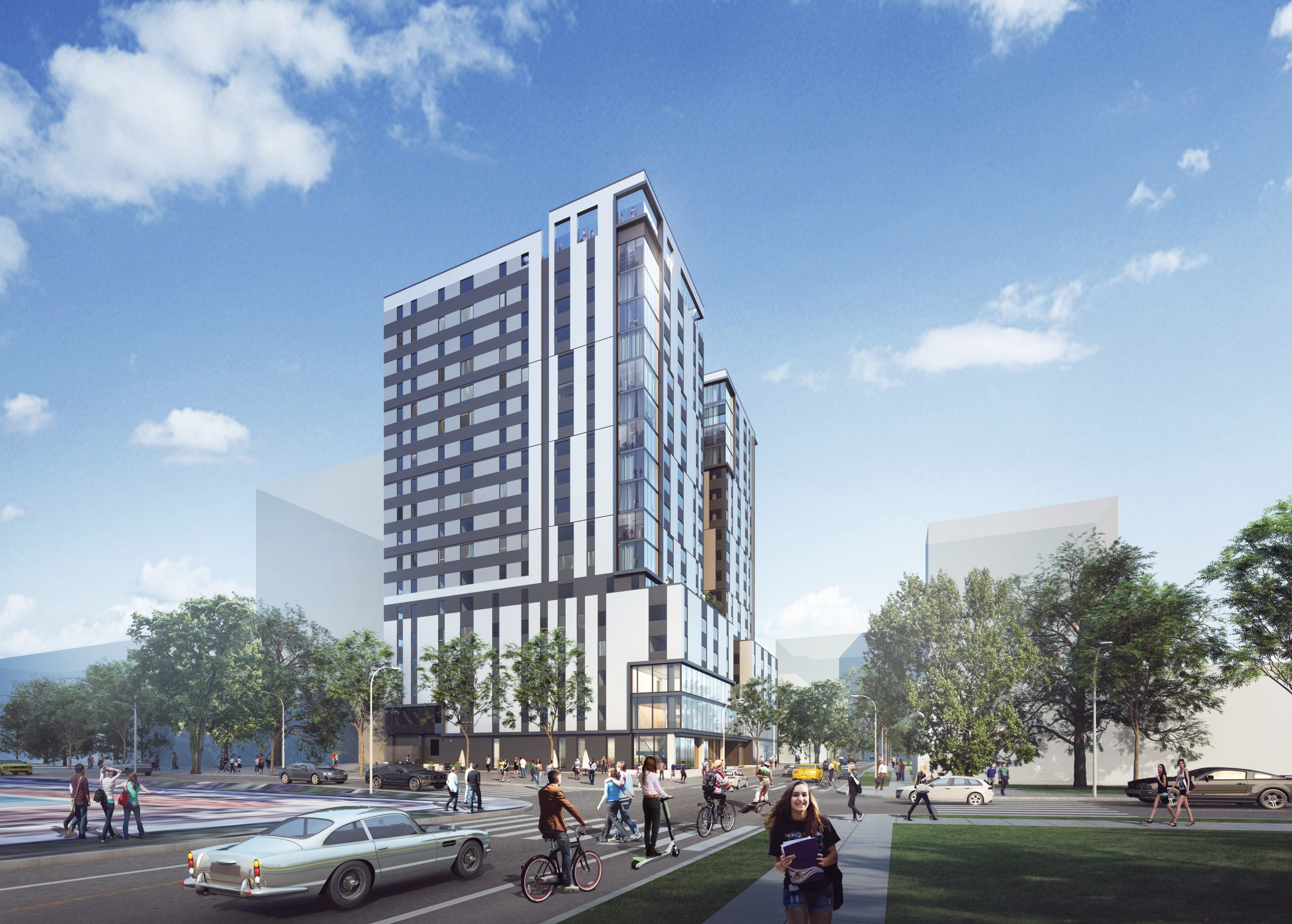 Campus Advantage was hired in November 2018 to complete the initial lease-up of Moontower — a high-profile, new student housing development in Austin, Texas being developed by Lincoln Ventures, an Austin-based real estate investment and development firm. The 18-story, 567-bed property is located in West Campus, serving the University of Texas at Austin (UT). Catalyst, Campus Advantage's marketing partner, was engaged to establish the brand for the asset in collaboration with Lincoln Ventures and assisted with creating digital marketing strategies to set the development apart within the competitive UT market. Numerous focus groups were held during the design phase of the development to tailor the design features to students' preferences, and it was imperative that the brand reflected the attention to detail that was emphasized in the development plans.
Campus Advantage and Catalyst worked together in the planning and execution of a brand that would successfully launch the development into the local community. To do so, Moontower teamed up with local businesses for social media giveaways and on-site events. The development also incorporated influential UT alumni into the branding by naming floor plans after alumni and including quotes from Matthew McConaughey, a UT alumni celebrity, in the marketing materials. Moontower's target demographic was identified early on, and the development worked to brand and market to these students. The property emphasized guerrilla marketing efforts coupled with unique, aggressive digital strategies, including SEO, SEM, and social media meme campaigns, to drive leads for the development during the initial key leasing months. Additional marketing and leasing efforts included establishing a marketing street team, sponsoring Greek Life events, and hosting social media contests. Moontower held a philanthropy contest in May 2019 to assist in launching the brand, which resulted in more than 16,000 likes on Instagram.
Moontower has established itself as the place to be with its top-tier living experience, including an excellent location, high-end finishes, a wellness-driven amenity set, and unparalleled customer service. These combined branding and marketing efforts led to the development reaching 100% pre-lease occupancy by April 2020 — 15% ahead of the development's direct competitors, and 27% ahead of the off-campus market.
"The strong partnership and collaboration between Lincoln Ventures and the Campus Advantage team resulted in the extremely successful first lease-up of Moontower. Building onto the positive reputation of Lincoln Venture's prior West Campus developments, the brand and marketing strategy created by the Campus Advantage team caught the attention of all UT students, resulting in immediate demand that quickly drove leasing velocity. Leasing started 15 months before the project was scheduled to deliver, a true testament to how quality development product and integrated marketing can resonate with students. This lease-up surpassed our expectations and we are excited to continue to work alongside the Campus Advantage team to serve our Moontower residents with an unparalleled experience in the West Campus market." – David Kanne, Founder and Managing Principal of Lincoln Ventures
Campus Advantage will continue to provide property management services after opening, which will include oversight of property operations, marketing and leasing campaigns to drive subsequent leasing seasons, and the delivery of the Students First® Experience residence life program.
About Lincoln Ventures:
Lincoln Ventures is an Austin, Texas-based real estate investment firm focused on acquiring, developing, and managing high-quality real estate in superior locations throughout the United States. They are principally engaged in the ownership, acquisition, development, and management of both residential and commercial real estate assets. They employ an opportunistic investment strategy, seeking to acquire assets that are underutilized, leveraging their teams' unique ability to assess opportunity, innovatively design, and effectively implement a carefully crafted strategic plan. With their unique hands-on management approach, they unlock potential and create value for their assets, partners, and the surrounding community, achieving superior risk-adjusted returns.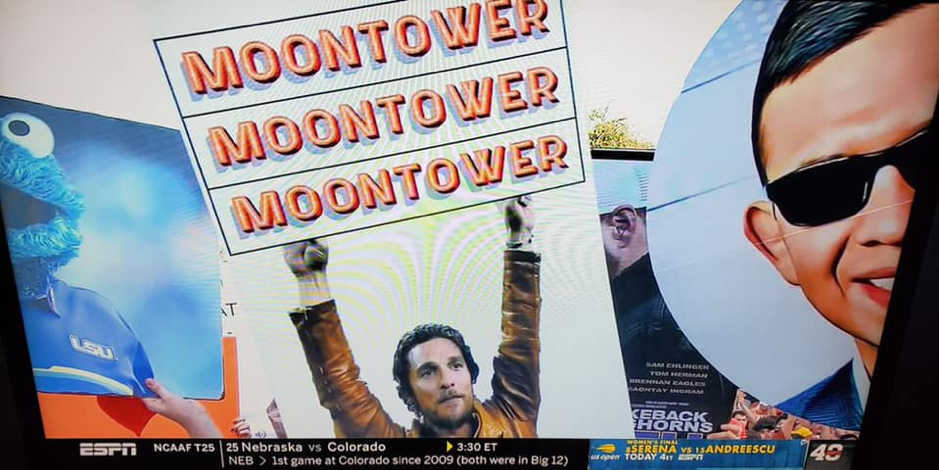 212 East
Location: Champaign, Illinois
University: The University of Illinois at Urbana–Champaign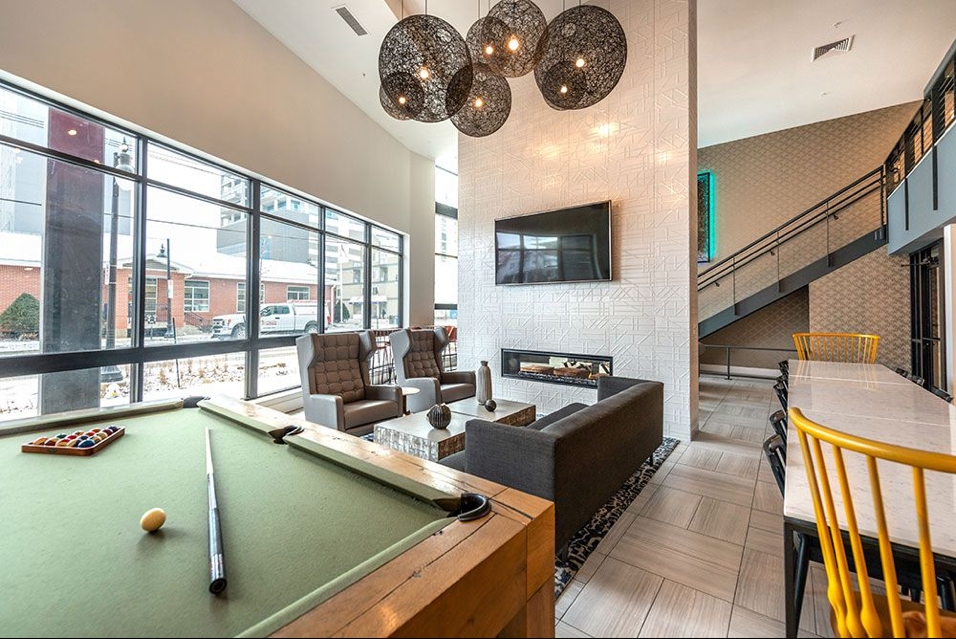 In 2019, Campus Advantage was hired to manage a 428-bed asset that was significantly behind their market in pre-leasing velocity. Campus Advantage took over management in May when the property was 78% pre-leased. Historically, the property had reached budgeted occupancy. However, the Champaign market had five new developments deliver in 2019, requiring existing assets to have a more strategic marketing and leasing approach. Upon taking over management, Campus Advantage immediately implemented increased customer service standards and hosted various resident events to begin to build a sense of community. Campus Advantage's Students First® Experience residence life program was implemented, and a resident appreciation week was hosted after the fall 2019 move-in. Campus Advantage also recruited and hired new staff for the property who believed in the vision of the asset and worked diligently to establish a positive reputation for the property. Campus Advantage achieved 94.4% occupancy in August 2019.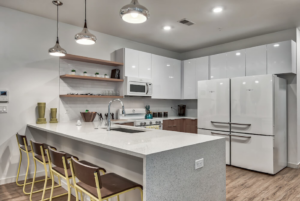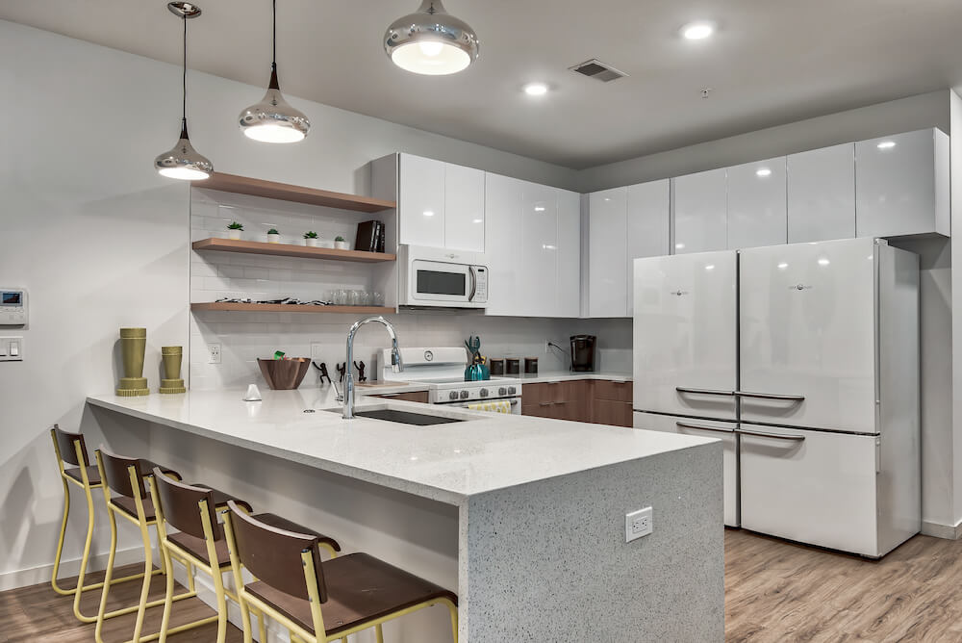 For the fall 2020 leasing season, Campus Advantage positioned the rates competitively using an aggressive tiered approach, and established a new, strong leasing team. There was also a heavy focus on resident engagement during the critical six-week window after move-in, and this focus continued throughout the academic year, which helped create a sense of culture and resident connection at the community. These combined efforts allowed the property to reach 100% pre-leased by February 2020, at a time when the Champaign market was 45% pre-leased. 212 East was the first community in Campus Advantage's portfolio, as well as the Champaign market, to reach this 100% target.
Founder's Hall
Location: Tempe, AZ
University: University of Advancing Technology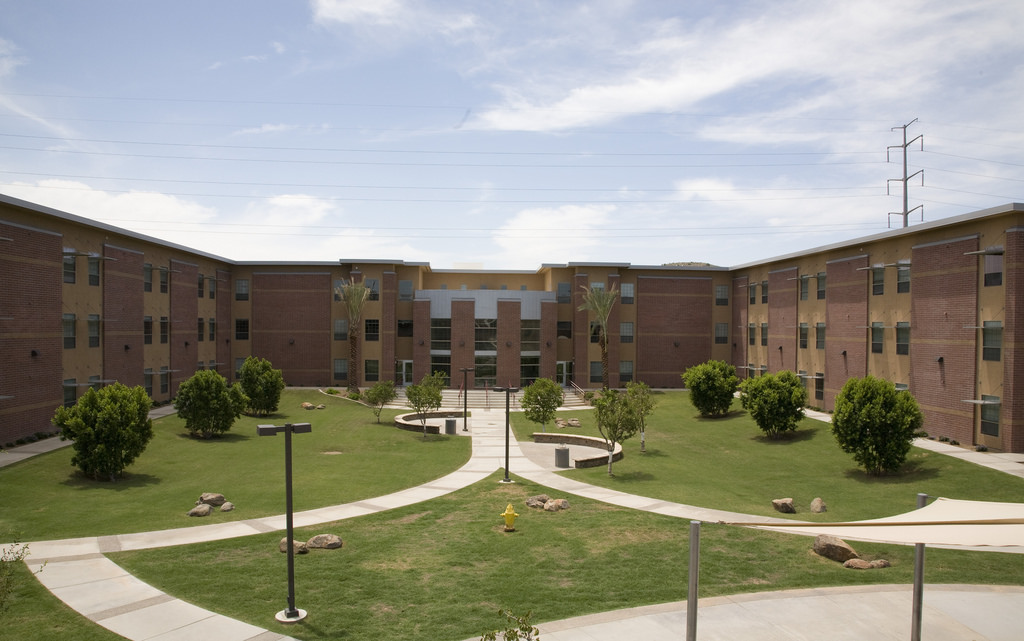 Founder's Hall is a 260-bed student housing property situated right on the University of Advancing Technology campus in Tempe, Arizona. Campus Advantage was engaged in the fall of 2016 to implement its signature Students First® experience – a program designed to ensure that residents who choose to live at Campus Advantage communities have more opportunities to achieve success both now and in the future. Founder's Hall lacked a robust calendar of resident events and overall community feel, and Campus Advantage was hired for their award-winning ResidentAssistant.com student resources and residence life experience to improve resident relations by committing to a higher level of resident satisfaction and success. Upon taking over the management of Founder's Hall, Campus Advantage implemented new and innovative residence life programming, prompting a substantial increase in renewals among current residents. This also led to higher year-over-year annual occupancy trends at the property, a previous challenge due to the semester lease terms.
Throughout the transition, Campus Advantage also developed a strong working relationship with the University of Advancing Technology's executive leadership team, enrollment services department, and financial aid department. The evolving relationships allowed all parties to collaborate on aggressive marketing and leasing campaigns, leading to increased capture ratios and more newly enrolled UAT students choosing Founder's Hall as their housing option. These results were achieved through clear communication amongst all parties, daily meetings with UAT leadership, and a common goal to serve the residents at Founder's Hall with the best hospitality and living experience.
Through these initiatives, Campus Advantage was able to achieve 100% occupancy at Founder's Hall for fall 2019.
The Flats at Ridgeview
Location: Las Cruces, New Mexico
University: The Burrell College of Osteopathic Medicine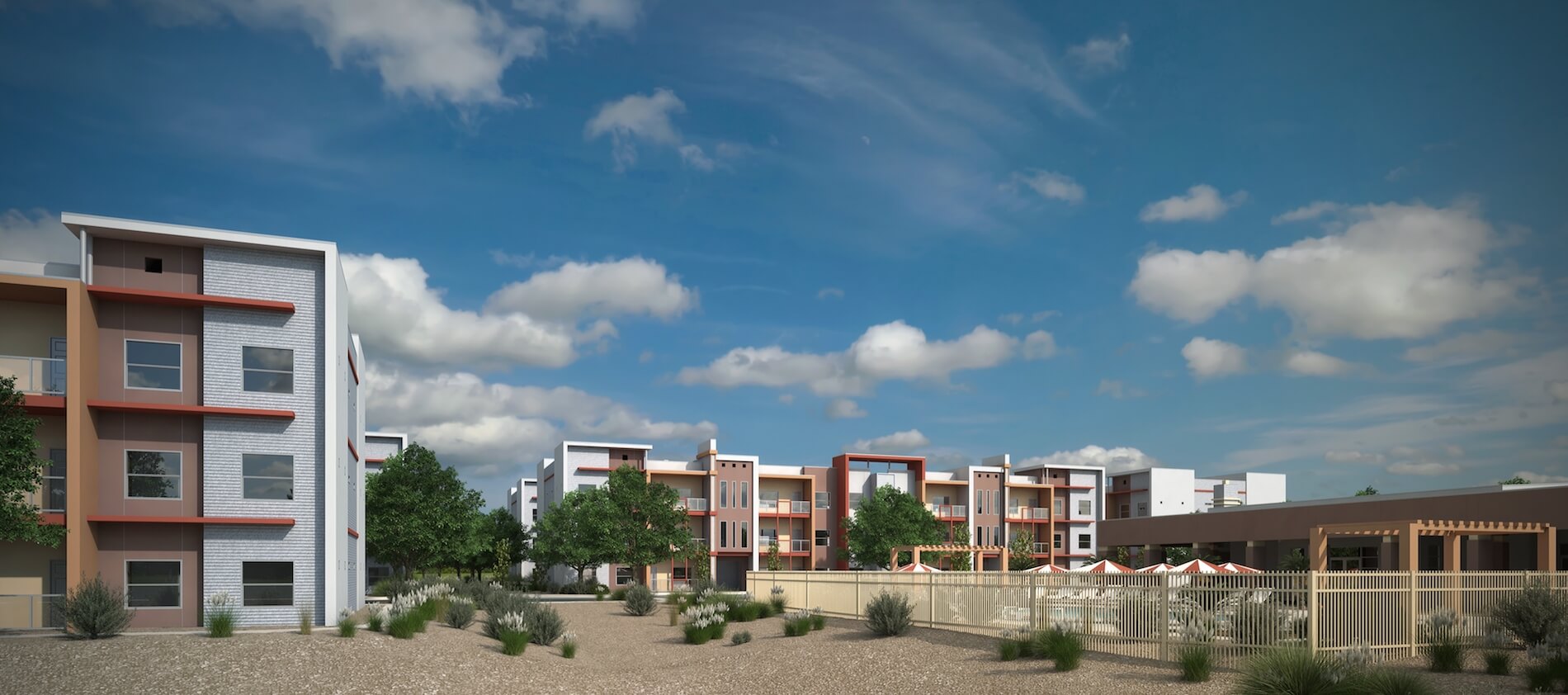 Background
In September 2017, Campus Advantage Consulting was engaged to perform a market analysis and feasibility study for a new development serving The Burrell College of Osteopathic Medicine (BCOM) in Las Cruces, New Mexico. Given the proposed development's prime location, lack of purpose-built housing in the market, and the current enrollment, Campus Advantage concluded that the market had the depth to absorb the proposed project. The final report provided recommendations on a unit mix, rental rates, amenities, and prepared a preliminary operating budget for the project.
Campus Advantage was then engaged to perform the initial operations and lease-up of the first BCOM-affiliated housing venture. Campus Advantage worked closely with the developer to review and optimize the building exteriors, unit finishes, and the design of the common area amenities. Recommendations were also made on vendor selection, information technology configuration, FF&E specifications, and operational topics such as lease terms, utility structure, and administrative office set-up. Campus Advantage's marketing partner, Catalyst, was engaged to brand the development which included design of the logo, tagline, marketing materials, and website.
The Flats at Ridgeview's first phase opened in August 2018 with an occupancy of 95%. Campus Advantage's services transitioned into ongoing property management services which includes support for property operations and leasing, creation of annual budgets and marketing campaigns, and delivering the Students First® residence life program. The developer is currently exploring the opportunity of developing a second phase of the project due to the success of phase one.
Russia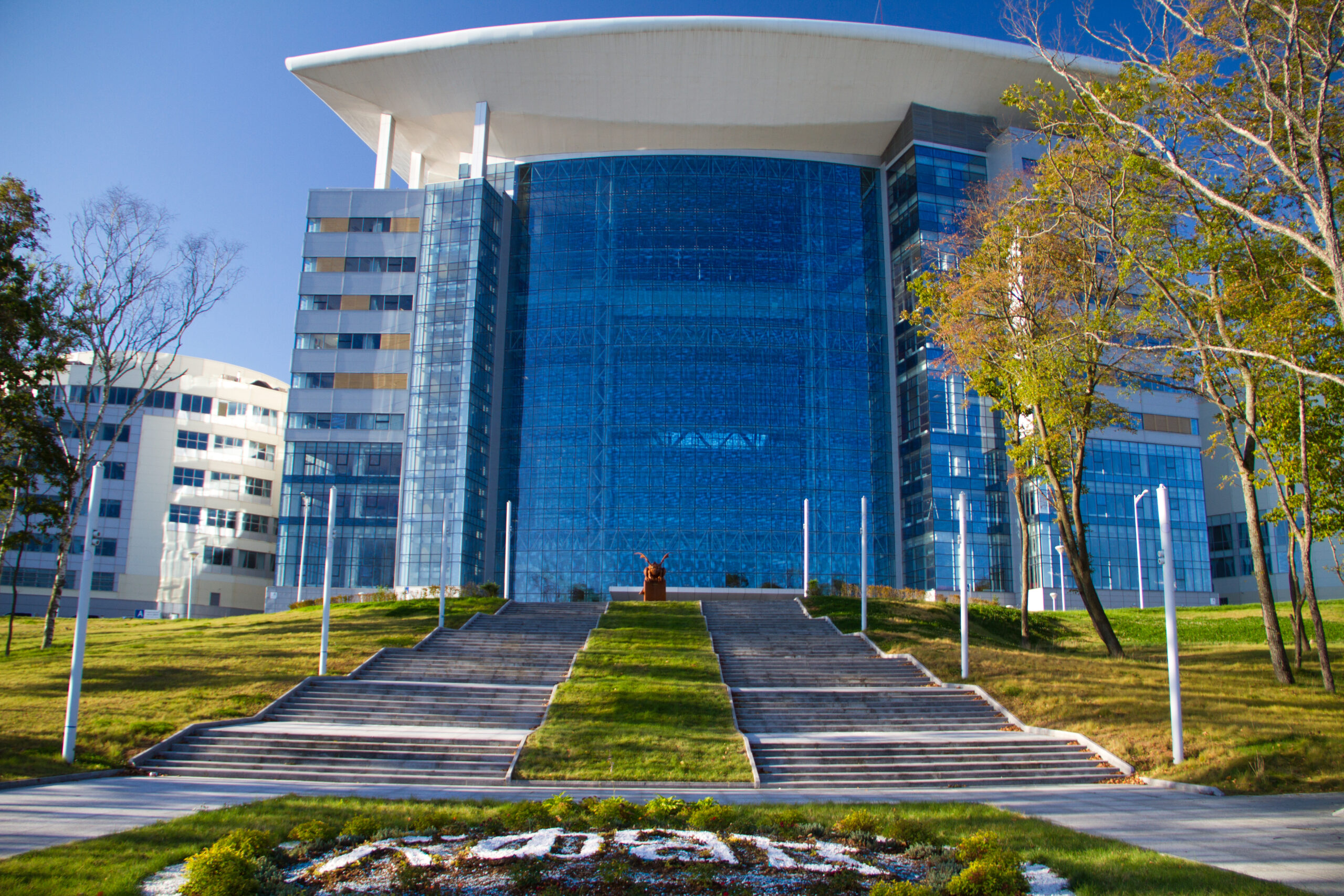 Opening a New Campus in the Russian Far East
Campus Advantage provided four years of consulting services for a new university campus in the Russian Far East. The project was a high-profile initiative of the Ministry of Education to create a world-class institution based on western design and operating standards. Several of Campus Advantage's team members spent six months living and working at the campus in 2014.
The campus is located on Russian Island near the port city of Vladivostok, next to the border of China on the Sea of Japan. Fall classes commenced in September 2013 with approximately 25,000 students. CA's work focused on four main areas: residence life programming, on-campus housing management, international marketing, and summer camps and conferences.
Campus Advantage was first invited to assist with the project in 2010 by the builder of the $7 billion project, who was based in Moscow. During visits to Moscow, CA had the opportunity to meet with several high-ranking leaders in the Russian federal government who were educated in the United States and Western Europe. These individuals were very interested in replicating the feel and atmosphere of western campuses at the new university in Vladivostok with the goal of attracting international students and faculty.
The campus includes over 12,000 beds of new housing. A team of architects from Moscow and the United States worked together with CA's consulting group to design and plan the unit mix, common areas, and amenity spaces throughout the residence halls. This was the first new university built in Russia in many years, and the goal was to incorporate a true residential experience based on western traditional campuses.
Campus Advantage's time in Russia was carefully designed to provide the university with tools that would assist their goals of raising their QS World University Ranking and becoming a world-class institution. The consulting team worked closely with university staff to provide training, policies, and procedures. One of the most exciting tasks accomplished was the development and implementation of the first Resident Assistant program in the country. With help from higher education marketing agency Catalyst, Campus Advantage developed recruiting concepts and materials that led to hundreds of students applying and interviewing to be chosen for the program.
Campus Advantage shared policies and procedures to help the campus create a roommate-matching program and customer-service-based management practices. CA also recommended special programs to assist international students and further advised on methods to increase access for students with disabilities. By putting a summer-turn plan in place, CA provided the university with the necessary tools to handle students moving in and out over a short period of time.
Working closely with Catalyst, CA was able to present the concept of a campus mascot and a university merchandise program. A faculty committee and student organization reviewed several mascot concepts and designs, along with a business plan for launching university spirit-wear and other branded products.
The work Campus Advantage conducted at Far Eastern Federal University provided them with the tools necessary to increase their QS World University Ranking — as well as ShanghaiRanking's Academic Ranking of World Universities and the Times Higher Education World University Rankings — and was very well received by both the Russian federal government and the university. CA worked with Erik Holm-Olsen at the U.S. Consulate in Vladivostok, who stated, "Campus Advantage, from everything I have seen, has been an excellent representative of the American private sector in Vladivostok."
A sampling of accomplishments:
Introduced residence life programming to the FEFU campus
Created a mascot and a university merchandise program
Implemented world-class standards for residence hall management
Provided multiple opportunities to expand conference business at FEFU
Hosted several events on campus for students, allowing the FEFU staff and students to interact socially
Designed furniture and décor for leisure areas in the building
The Luxx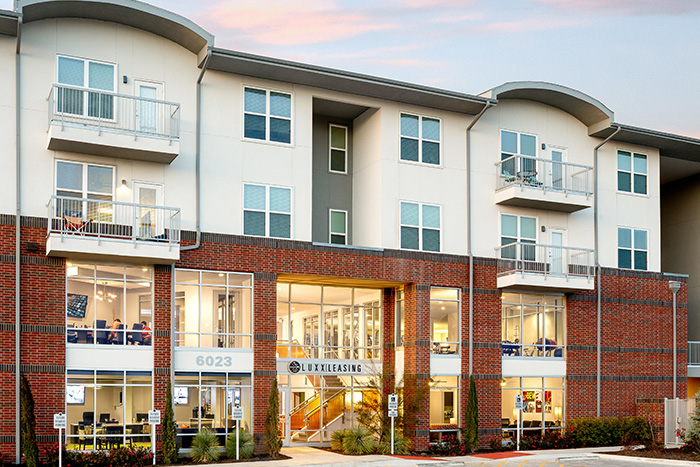 Campus Advantage was engaged by a private developer to perform a market analysis and feasibility study for a new development near the University of Texas at San Antonio (UTSA). Campus Advantage evaluated the on- and off-campus housing market, analyzed historical enrollment trends and future growth at the university, and conducted informal interviews with students to determine the potential demand for a new student housing development. Campus Advantage discovered that UTSA was transitioning from a regional school, serving mostly commuter students, into a major university that recruits students from across the state and abroad. In 2002, their total enrollment was 22,016, of which 62% originated from Bexar County, where the campus is located. Fall 2015 had a total enrollment of 28,787, a 31% increase. Bexar County residents dropped to 47% of the population, and students coming from other counties in Texas increased over 83%, accounting for an additional 6,000 students. International students, as well as out-of-state students, almost doubled as well.
Campus Advantage's analysis included the following:
Market:
An overview of competitive properties in the market
A rate analysis of competitive properties
An overview of new developments in the pipeline
University:
Enrollment trends
Enrollment projections
An overview and rates for on-campus residence halls/apartments
New Development:
An analysis of the proposed site location
Rate recommendations
Amenity recommendations
Operational recommendations
Marketing and leasing recommendations
Proposed unit layouts
An absorption analysis
As a result of the study, Campus Advantage concluded that the San Antonio student market could absorb the proposed project given its excellent location, the lack of a freshman live-on requirement, and the relatively few number of on- and off-campus beds. Campus Advantage knew the market would be very competitive since all nine of the off-campus student housing properties were newer product and offered desirable amenity packages, so extra focus was placed on the unit layouts and unique amenities, including a two-story fitness center and Vegas-style pool area. These amenities made the development stand out from the competition and created a strong level of interest with the students. The property, with 690 beds, opened at 94% occupancy in fall 2014, while the rest of the market averaged 89.6% occupancy. Since the desired occupancy was not achieved in the initial lease-up, the developer hired Campus Advantage to manage the property in May 2015.
Virginia Commonwealth University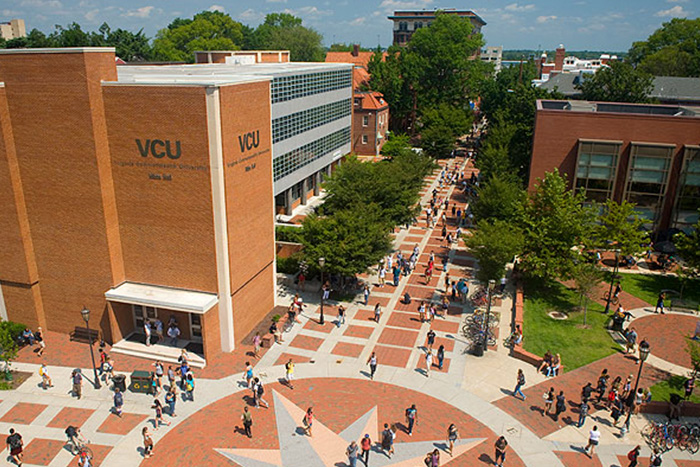 New Development
Richmond, VA – Client: 8 ½ Canal
Campus Advantage was originally retained in September 2009 to perform a market profile of the Virginia Commonwealth housing market. The focus of the analysis was to make general assumptions regarding the on- and off-campus housing market at VCU and evaluate the potential demand for a new student housing development. As a direct result of the data gathered during the market profile, the developer then engaged the CA team to conduct a more in-depth analysis of the project and produce a full Market Analysis and Project Feasibility Study. This level of research required members of the Campus Advantage team to travel to Richmond to meet with VCU and City of Richmond officials, as well as perform intercept surveys with VCU students.
Campus Advantage concluded that the Richmond student market had the depth to absorb the proposed project, given the fast-growing student population at VCU and the project's superior location. The site was located in an up-and-coming area of the market, due to recent campus expansion. Additionally, the off-campus Richmond market lacked any purpose-built student product. The majority of the properties surveyed in the main student housing corridors had very limited amenities, especially those geared toward students, such as a residence life program or all-inclusive rates. 8 ½ Canal was the first purpose-built property to enter the Richmond market and offered a plethora of amenities. The property also introduced an abundance of four-bedroom apartments, a unit type only found in one other off-campus property.
Construction on 8 ½ Canal began in summer 2010 for a fall opening in 2011. The Campus Advantage team was once again engaged to perform the initial operations and lease-up of the property, pre-leasing the property to 100% before it opened in fall 2011. The fast lease-up and continued success of the property exhibits the desirability of purpose-built product in an untested market.
The building includes 160 units with 540 beds on six levels and parking on two levels. 8 ½ Canal is also an eco-friendly project which was designed with green principles in mind in accordance with the LEED accreditation system.
Wayne State University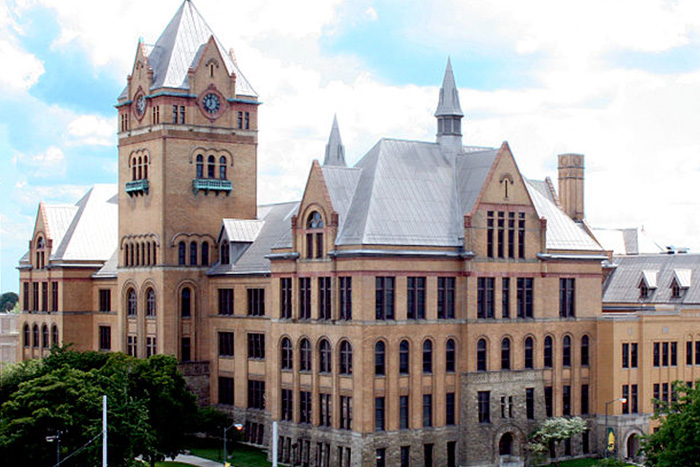 New Development
Detroit, MI – Client: The Union at Midtown
Campus Advantage was engaged in early 2008 by a private developer to perform a market analysis and feasibility study for a site in Detroit near the Wayne State University campus. Campus Advantage evaluated the on- and off-campus housing market, analyzed historical enrollment trends and future growth at the University, and conducted informal interviews with students to determine the potential demand for a new student housing development.
As a result of the study, Campus Advantage came to the conclusion that the Detroit student market could absorb the proposed project, given its superior location and lack of other purpose-built product in the market. The Wayne State market could be characterized by properties that were built in the early 1900s and contained 100 beds or less. One- and two-bedroom apartments were most prevalent, with only two properties offering a three-or four-bedroom option. Furthermore, very few properties included any amenities, furnishings, or an all-inclusive rent option. The Union at Midtown, with 140 beds on three levels and ground-floor retail, offered a unique living experience for students in this market and leased to 90% before opening in fall 2011.