Paseo Place
Location: San Diego, California
University: San Diego State University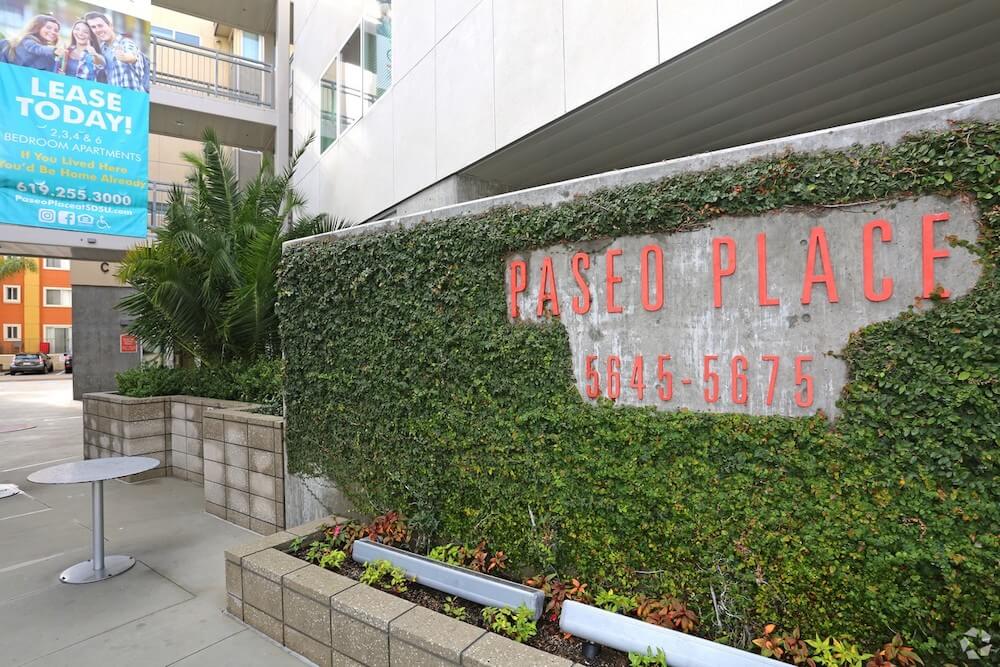 In 2019, Campus Advantage was hired to perform due diligence on a 246-bed asset that was 87% pre-leased. The property had a slow start with their marketing and renewal efforts in fall 2018 due to San Diego State University implementing a new policy requiring both freshman and sophomore students to live on campus. Campus Advantage was also hired to oversee the property management and to implement an aggressive marketing and leasing strategy.
Upon taking over management, Campus Advantage immediately increased the property's customer service standards and hosted various resident events to begin to build a sense of community. Campus Advantage's Students First® Experience residence life program was implemented, and a resident appreciation week was hosted after the fall 2019 move-in to jumpstart the leasing season early and establish a positive reputation for the property. By fall 2020, Campus Advantage achieved 100% occupancy despite the global pandemic and the university announcing that all classes would be held online.
In fall of 2020, the University of San Diego's total enrollment continued to increase by 1.4% from fall 2019; however, four of the 10 off-campus competitors were only able to achieve 63%-81% occupancy. Campus Advantage shifted its leasing strategy to primarily focus on digital efforts promoting Paseo Place's prime location, secured entry, and competitive rates due to double-occupancy options. There was also a continued heavy focus on resident engagement during the critical six-week window after move-in, and this focus continued throughout the academic year which helped continue to foster the sense of community and resident connection notwithstanding COVID-19 restrictions. These combined efforts have allowed the property to continue to lead the market, being pre-leased ahead by 11% in March 2021, at a time when the San Diego market was behind the prior year's total market average by approximately 21%.
Liv+ Gainesville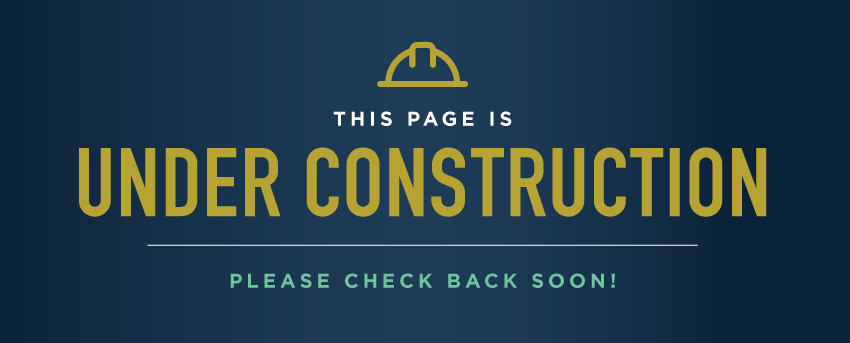 Moontower
Location: Austin, TX
University: University of Texas at Austin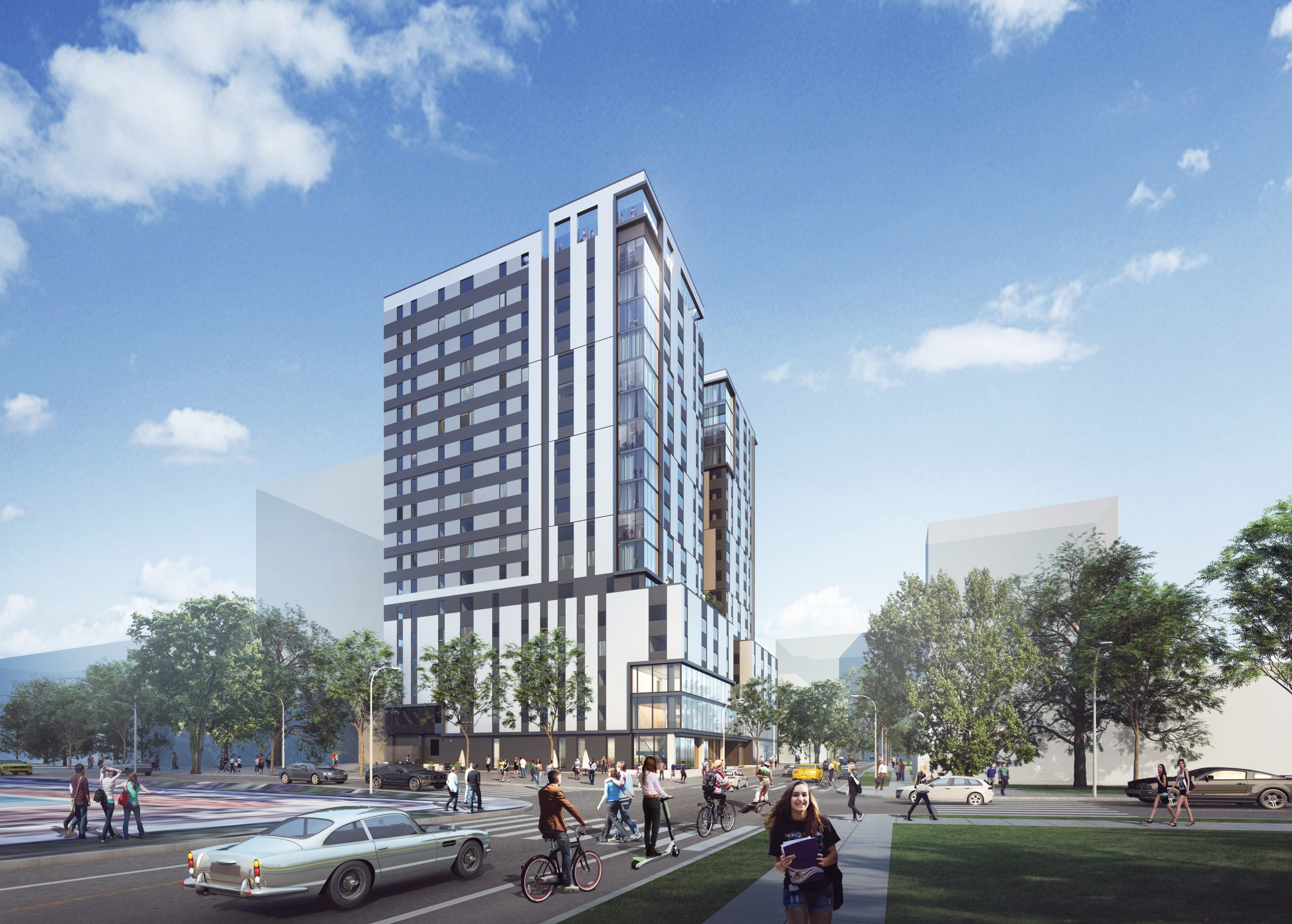 Campus Advantage was hired in November 2018 to complete the initial lease-up of Moontower — a high-profile, new student housing development in Austin, Texas being developed by Lincoln Ventures, an Austin-based real estate investment and development firm. The 18-story, 567-bed property is located in West Campus, serving the University of Texas at Austin (UT). Catalyst, Campus Advantage's marketing partner, was engaged to establish the brand for the asset in collaboration with Lincoln Ventures and assisted with creating digital marketing strategies to set the development apart within the competitive UT market. Numerous focus groups were held during the design phase of the development to tailor the design features to students' preferences, and it was imperative that the brand reflected the attention to detail that was emphasized in the development plans.
Campus Advantage and Catalyst worked together in the planning and execution of a brand that would successfully launch the development into the local community. To do so, Moontower teamed up with local businesses for social media giveaways and on-site events. The development also incorporated influential UT alumni into the branding by naming floor plans after alumni and including quotes from Matthew McConaughey, a UT alumni celebrity, in the marketing materials. Moontower's target demographic was identified early on, and the development worked to brand and market to these students. The property emphasized guerrilla marketing efforts coupled with unique, aggressive digital strategies, including SEO, SEM, and social media meme campaigns, to drive leads for the development during the initial key leasing months. Additional marketing and leasing efforts included establishing a marketing street team, sponsoring Greek Life events, and hosting social media contests. Moontower held a philanthropy contest in May 2019 to assist in launching the brand, which resulted in more than 16,000 likes on Instagram.
Moontower has established itself as the place to be with its top-tier living experience, including an excellent location, high-end finishes, a wellness-driven amenity set, and unparalleled customer service. These combined branding and marketing efforts led to the development reaching 100% pre-lease occupancy by April 2020 — 15% ahead of the development's direct competitors, and 27% ahead of the off-campus market.
"The strong partnership and collaboration between Lincoln Ventures and the Campus Advantage team resulted in the extremely successful first lease-up of Moontower. Building onto the positive reputation of Lincoln Venture's prior West Campus developments, the brand and marketing strategy created by the Campus Advantage team caught the attention of all UT students, resulting in immediate demand that quickly drove leasing velocity. Leasing started 15 months before the project was scheduled to deliver, a true testament to how quality development product and integrated marketing can resonate with students. This lease-up surpassed our expectations and we are excited to continue to work alongside the Campus Advantage team to serve our Moontower residents with an unparalleled experience in the West Campus market." – David Kanne, Founder and Managing Principal of Lincoln Ventures
Campus Advantage will continue to provide property management services after opening, which will include oversight of property operations, marketing and leasing campaigns to drive subsequent leasing seasons, and the delivery of the Students First® Experience residence life program.
About Lincoln Ventures:
Lincoln Ventures is an Austin, Texas-based real estate investment firm focused on acquiring, developing, and managing high-quality real estate in superior locations throughout the United States. They are principally engaged in the ownership, acquisition, development, and management of both residential and commercial real estate assets. They employ an opportunistic investment strategy, seeking to acquire assets that are underutilized, leveraging their teams' unique ability to assess opportunity, innovatively design, and effectively implement a carefully crafted strategic plan. With their unique hands-on management approach, they unlock potential and create value for their assets, partners, and the surrounding community, achieving superior risk-adjusted returns.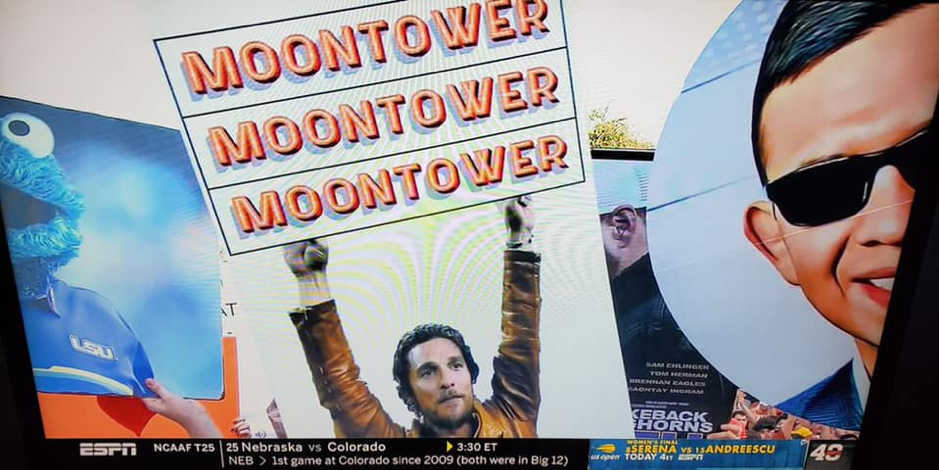 212 East
Location: Champaign, Illinois
University: The University of Illinois at Urbana–Champaign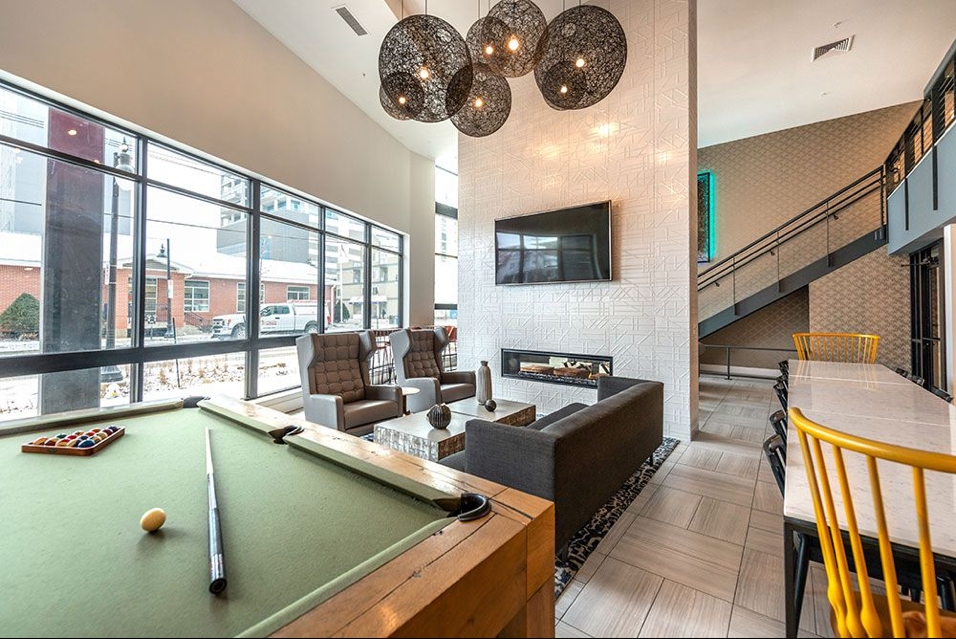 In 2019, Campus Advantage was hired to manage a 428-bed asset that was significantly behind their market in pre-leasing velocity. Campus Advantage took over management in May when the property was 78% pre-leased. Historically, the property had reached budgeted occupancy. However, the Champaign market had five new developments deliver in 2019, requiring existing assets to have a more strategic marketing and leasing approach. Upon taking over management, Campus Advantage immediately implemented increased customer service standards and hosted various resident events to begin to build a sense of community. Campus Advantage's Students First® Experience residence life program was implemented, and a resident appreciation week was hosted after the fall 2019 move-in. Campus Advantage also recruited and hired new staff for the property who believed in the vision of the asset and worked diligently to establish a positive reputation for the property. Campus Advantage achieved 94.4% occupancy in August 2019.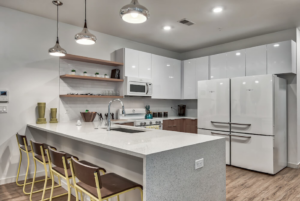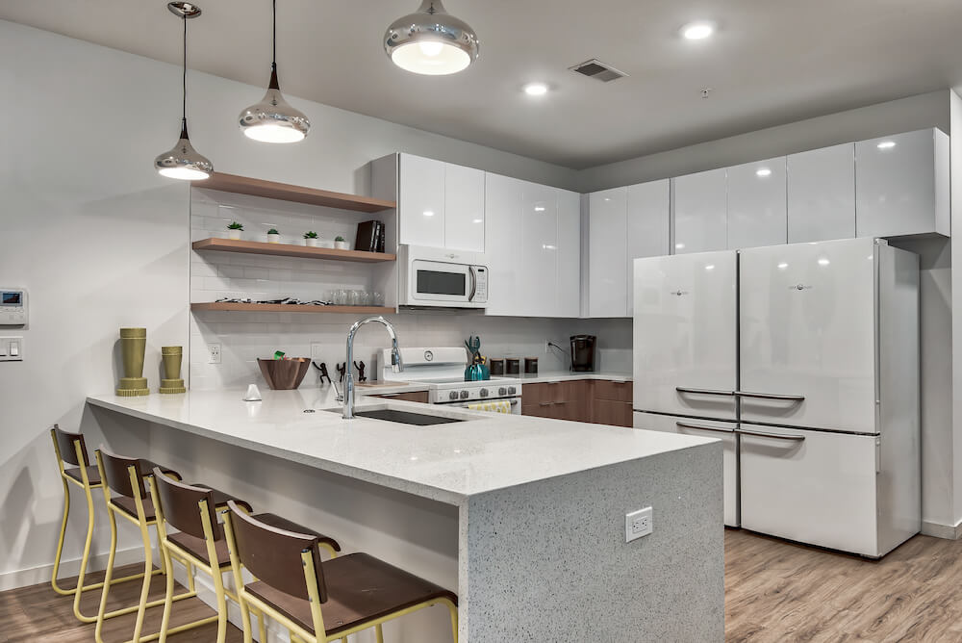 For the fall 2020 leasing season, Campus Advantage positioned the rates competitively using an aggressive tiered approach, and established a new, strong leasing team. There was also a heavy focus on resident engagement during the critical six-week window after move-in, and this focus continued throughout the academic year, which helped create a sense of culture and resident connection at the community. These combined efforts allowed the property to reach 100% pre-leased by February 2020, at a time when the Champaign market was 45% pre-leased. 212 East was the first community in Campus Advantage's portfolio, as well as the Champaign market, to reach this 100% target.
Liv+ Arlington
Location: Arlington, TX
University: University of Texas at Arlington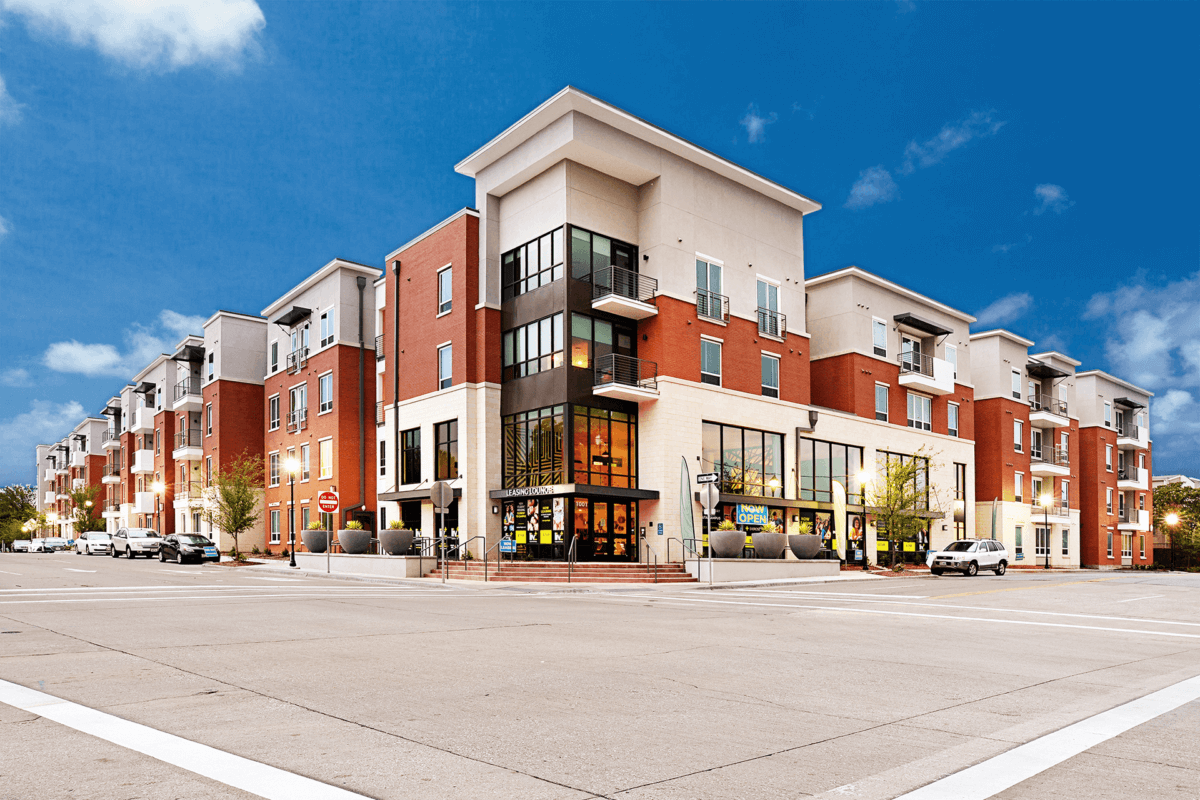 In 2016, Stark Enterprises engaged Campus Advantage to perform a Market Analysis and Feasibility study for Liv+ Arlington — a new 789-bed student housing development near the University of Texas at Arlington (UTA). The market study included an analysis of on- and off-campus housing, rental rates, concessions, enrollment, and the University's plans for future growth. Campus Advantage compiled recommendations for the development project, including a unit mix, amenities, apartment features, marketing tactics, and rental rates based on their findings. All recommendations were tailored to increase interest from the unique UTA student demographic plus factored in the University's evolution from a primarily commuter campus.
Stark Enterprises continued to engage Campus Advantage for design and development consulting throughout the development's planning and design process. Community spaces were carefully designed to contribute to residents' academic success and wellness as well as peak interest from prospective students and parents during tours. The two-story clubhouse was designed to include a variety of study spaces and a spacious computer center to accommodate varying study styles and group sizes while remaining lively and inviting. The pool deck and courtyards were also carefully crafted to provide unique spaces for students to lounge, socialize, unwind, or study. To differentiate itself within the Arlington market, Campus Advantage recommended Liv+ feature a fresh market café to provide residents with 24/7 access to a variety of convenient, healthy and satisfying snacks.
Campus Advantage's affiliate marketing partner, Catalyst, also worked closely with Stark Enterprises to develop the Liv+ brand and create marketing materials that would highlight the one- of-a-kind experience the development would offer. A strategic marketing plan was created to sell the Liv+ brand through online digital strategies as well as traditional grassroots marketing efforts. It was imperative to sell the upscale resident experience in addition to the development's amenity offerings while the project was under construction as several new developments had recently delivered, and future developments were in the pipeline.
Liv+ Arlington opened in fall of 2018 and quickly developed a strong reputation at UTA for its robust amenity package, unmatched Students First® residence life programming, and customer service focused management team. The property's J Turner Research Online Reputation Assessment score is 21 points higher than the market average; a true testament to resident satisfaction and the strong rapport built between management and residents. The management team also developed close relationships with key UTA on-campus departments, securing master lease contracts with both athletic and academic programs. The strategic marketing efforts, key relationship building, and dedication from the on-site team resulted in the property achieving 96% occupancy for fall 2019.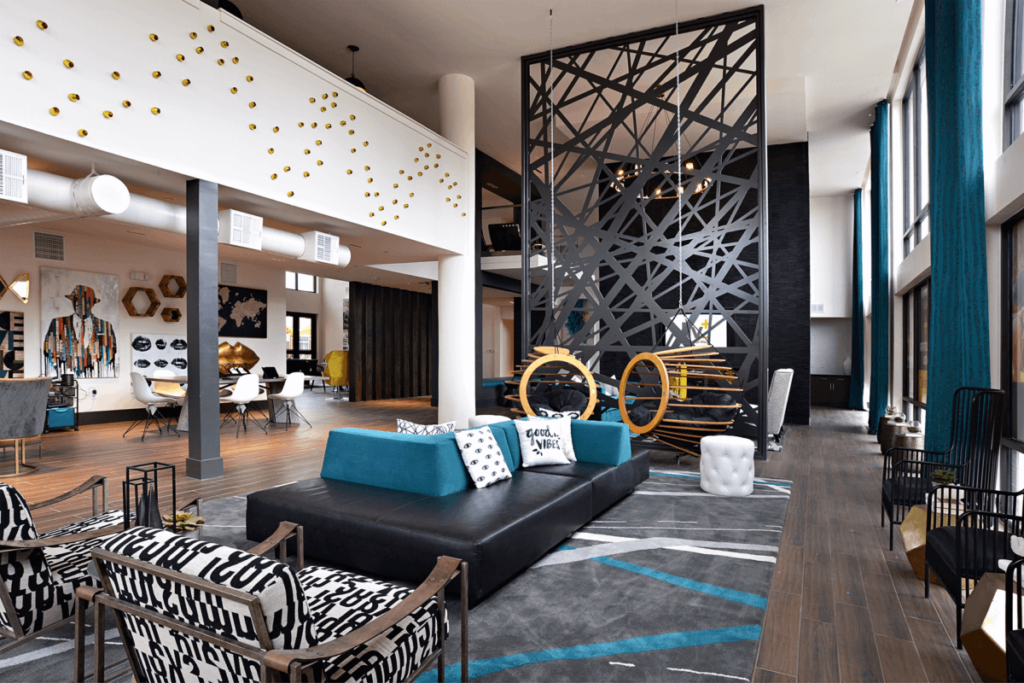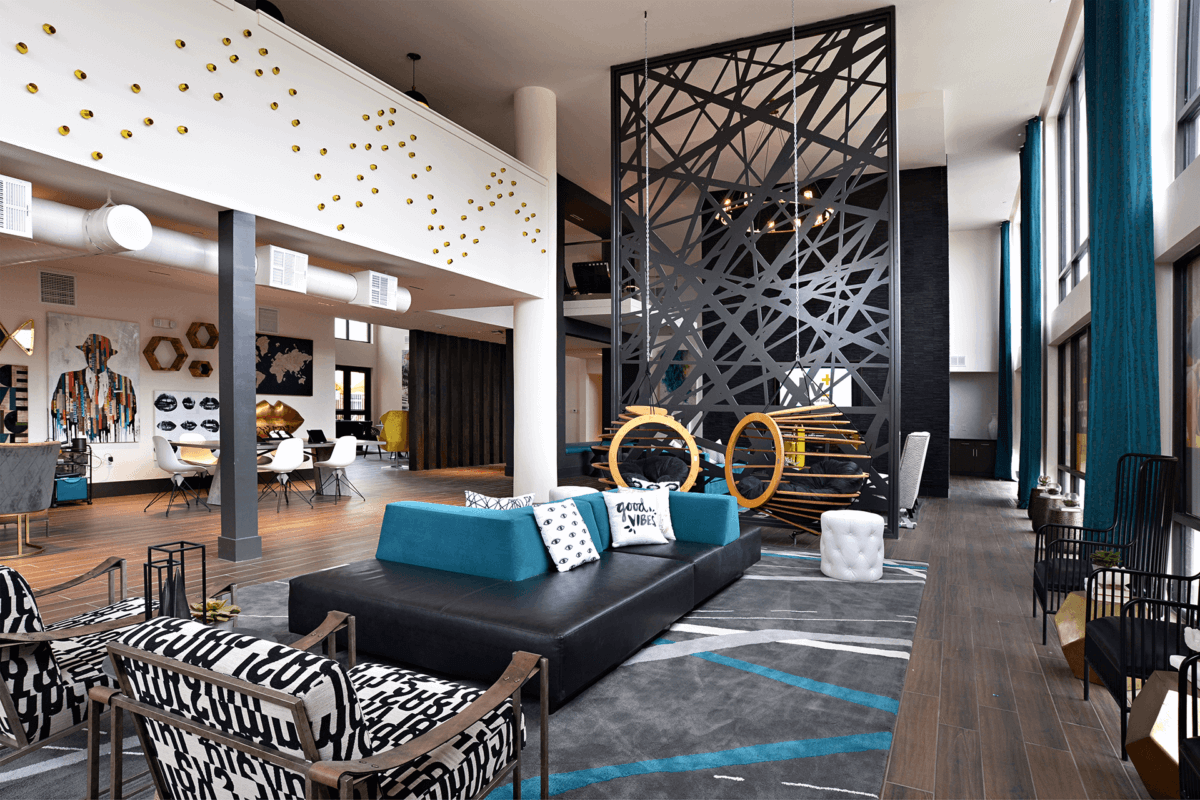 "Our cohesive partnership with Campus Advantage has been instrumental in the success of Liv+ Arlington. Together, we have built strong relationships with UTA, devised and deployed aggressive marketing strategies to achieve occupancy goals, and created a rewarding living experience for residents who choose to call Liv+ Arlington their home. Stark Enterprises was built on the philosophy of creating spaces that evoke visitors' enjoyment, and we are proud of the Liv+ brand and experience we have built together with Campus Advantage to continue that philosophy. We look forward to delivering this unique product to other markets together in the future." – Stacie Schmidt, Vice President of Marketing and Communications for Stark Enterprises.
About Stark Enterprises:
For over 40 years, Stark Enterprises has been developing and managing generational assets that leave visitors with lasting impressions. Stark's nearly $2 billion portfolio consists of retail, entertainment, office, residential, hotel and student housing environments, totaling approximately 8 million square feet, located in over nine states. With over $1 billion under development, Stark properties are always managed with the company's long-term investment strategy in mind and are continually recognized by customers and industry leaders as among the most beautiful, well operated and maintained properties in the nation.
The Verge Orlando
Location: Orlando, Florida
University: University of Central Florida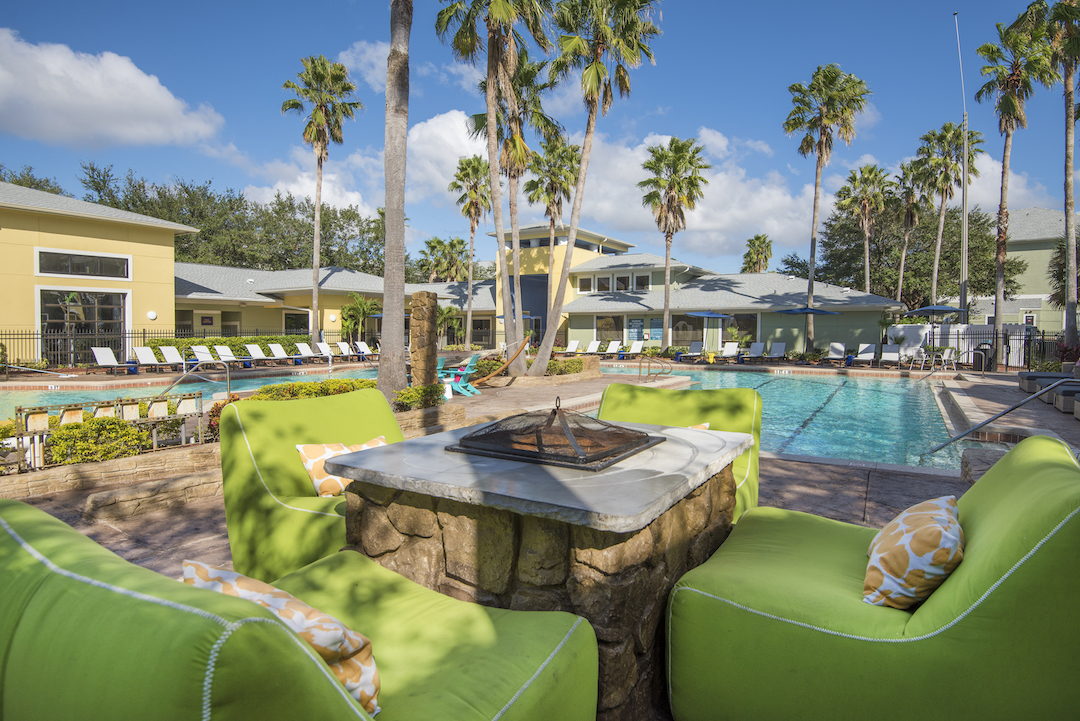 Campus Advantage acquired The Edge in Orlando, Florida in March 2016. Campus Advantage
immediately implemented a value-add strategy to reposition the asset as a luxury student housing community. This plan included refreshing the brand, creating a new look and feel, updating the amenity package, and upgrading all apartment units.
Catalyst, Campus Advantage's affiliated marketing firm, worked with the on-site team to rebrand the property with a vibe the student audience could relate to. The property was well-liked by residents and the community, so Catalyst selected the name, The Verge, as a nod to the community's past. Catalyst also created a new logo, color palette, marketing materials, and promotional items. The new brand was essential to repositioning the community in the market. A VIP pool party successfully revealed the new brand, created buzz in the marketplace, and generated new leads.
Campus Advantage crafted an extensive capital improvement plan designed to exceed students' growing expectations. Capital improvements in the common areas included a new pavilion grilling area and an outdoor kitchen by the pool, LED lighting, new walkways, doggie waste stations, roof work, upgraded HVAC units, a hammock garden, and a fire pit. The pool deck was resurfaced and features updated pool furniture. The community is now gated, and all amenities require an electronic key to enter. Residential unit improvements included wood-style flooring, black appliances, LED lighting fixtures, ceiling fans, granite countertops, new plumbing fixtures in the kitchen and bathroom, laminate countertops in the bathrooms, 42" TVs, and more. In addition, the IT infrastructure was upgraded with new wireless radios throughout and increased bandwidth, providing much quicker speeds and wireless access to all residents.
Current residents and UCF students appreciated the refreshed brand and property improvements. The Verge achieved 100% occupancy and 9% rental rate growth in fall 2016 before all capital improvements were in place, and achieved and additional 12% rental rate growth and 100% occupancy in fall 2017. Residents are proud to call The Verge home, as evidenced by the 30% increase in resident satisfaction with the accommodations.
MOVE-IN 2016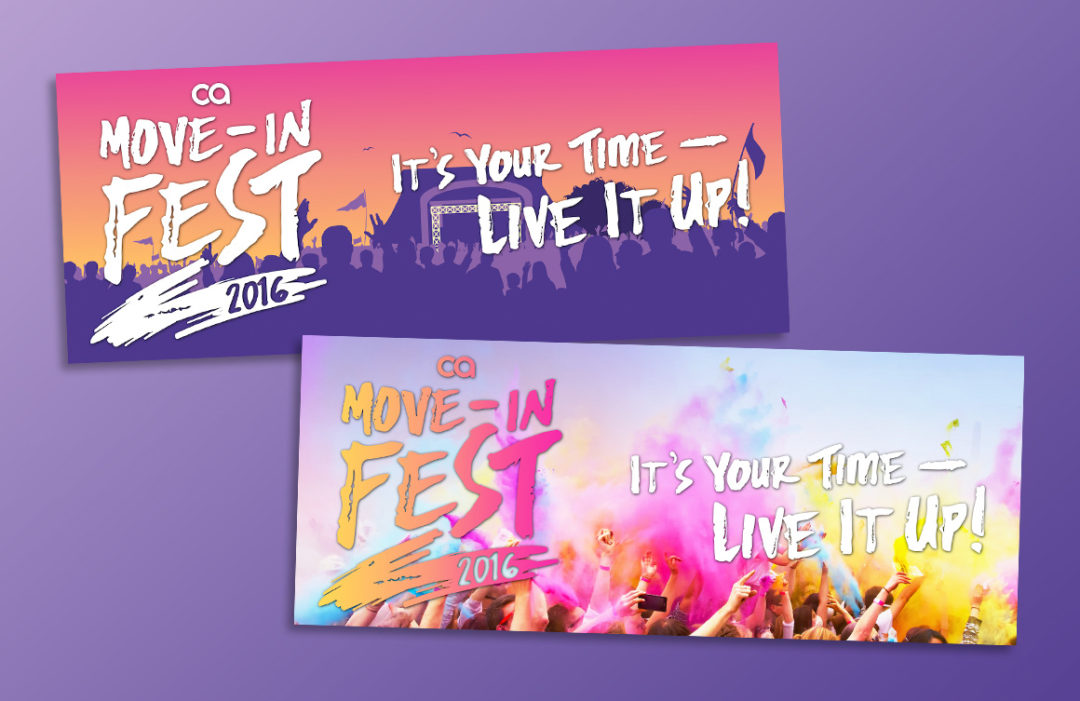 Each year, Campus Advantage employees submit ideas and vote on a theme to use portfolio-wide for move-in season. 2016's theme drew inspiration from the colorful, upbeat atmosphere of music festivals.
Catalyst created a variety of pieces to build excitement for Move-In Fest 2016, as well as to help assist people moving in at each property. Collateral included a logo and branding for the campaign, door hangers, lanyards, a banner, table tents, stake signs, emails, landing pages, a concert T-shirt, a Snapchat filter, social media graphics, and a ticket-shaped fast pass. In addition to these pieces, Catalyst worked with Campus Advantage's Students First® team to create an "autograph book" to be used throughout the year at the properties. Throughout the year, different events would result in students earning signatures in their autograph book, providing added engagement at each community. Messaging centered around the excitement and anticipation of music festivals, with phrases such as "It's Your Time — Live it Up!", "Skip the Lines!", and "Pack Your Bags!"
Titan Court
Location: Eugene, Oregon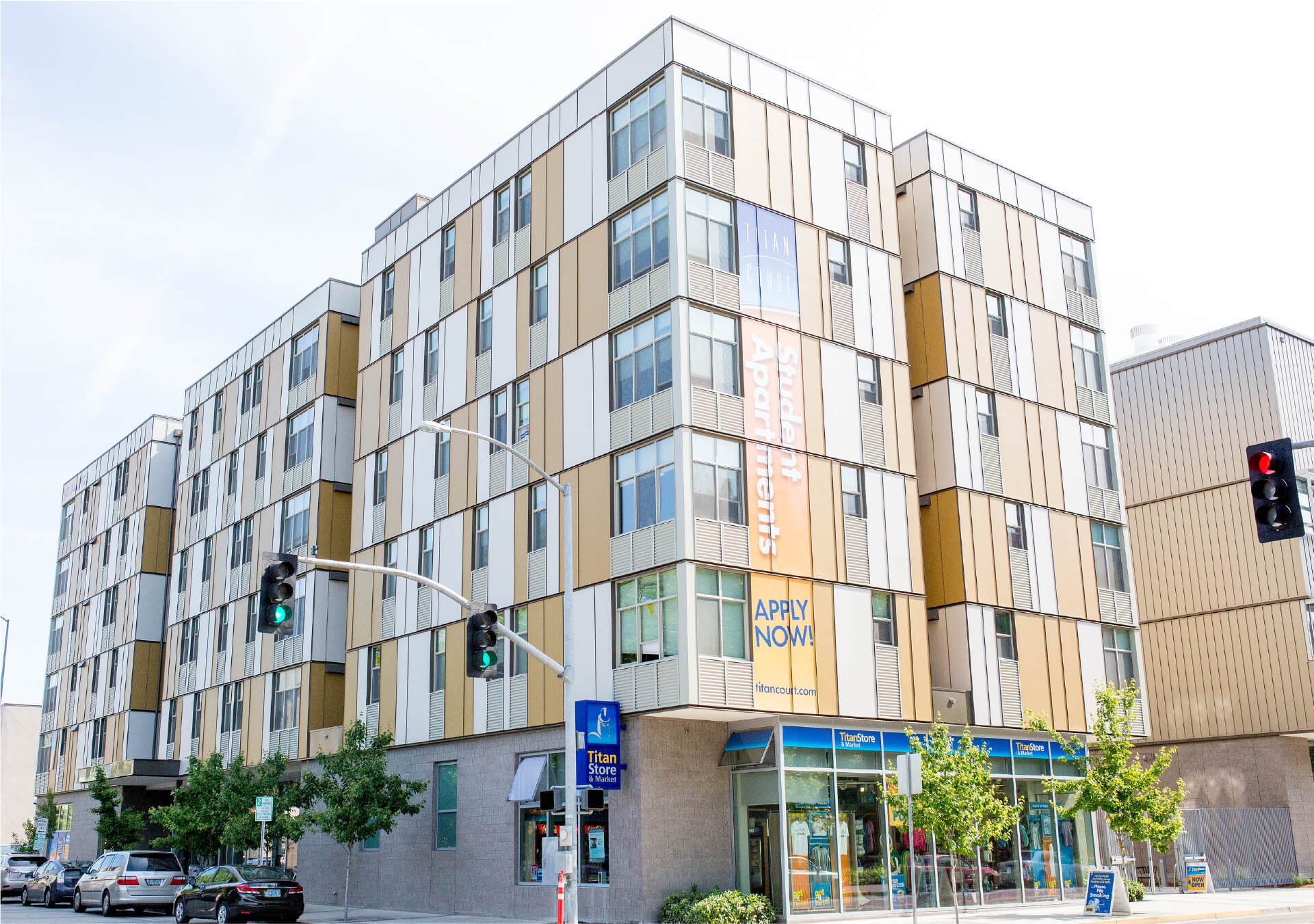 Campus Advantage provided Lane Community College in Eugene, Oregon with a market analysis and demand study, a student survey, and design consulting in 2009 and 2010. The project, Titan Court, opened in September 2012. Campus Advantage was asked to return to the project as the property management company after the initial third-party manager failed to meet campus goals. After the management takeover, the project immediately increased its pre-leasing velocity and has exceeded budgeted occupancy since 2013. The property remains in Campus Advantages portfolio today and continuously exceed budgeted goals and expectations.